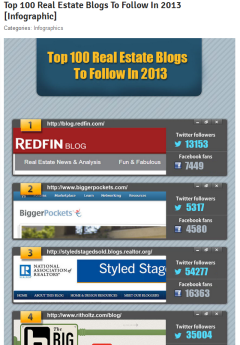 I ran across this handy list of 100 top blogs to follow in real estate.
While some on the list are industry heavyweights like the Zillow, Redfin and Biggerpcokets I find it kind of odd that other major blogs are missing, namely some industry news sites, the National Association of REALTORS® and Trulia.
The post doesn't say how or why this list was created but that's not the point. I have spent some time and will continue to do so with the links provided because the list is mostly made up of real estate agents. I am finding that these sites do have quite a bit of activity in the way of blog posts (I call them articles myself) and I am finding that I am getting quite a few ideas to help my clients market their website.
You might do well to spend a few hours looking at these sites, making notes, printing some screenshots and creating a real estate strategy on how you could implement some of the ideas your sure to see.